Eurosif
The European Sustainable Investment Forum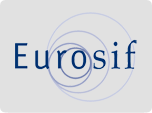 The European Sustainable Investment Forum (Eurosif) is the leading European membership association whose mission is to develop sustainability through European financial markets.

Eurosif works as a non-for-profit partnership of eight national Europe-based national Sustainable Investment Forums (SIFs) with the support and involvement of Member Affiliates.

National sustainable investment forums in Europe to date include:
•    Belsif, Belgium
•    Forum Nachaltige Geldanlagen (FNG) e.V., Austria, Germany and Switzerland
•    Forum per la Finanza Sostenibile (FFS), Italy
•    Forum pour l'Investissement Responsable (FIR), France
•    Spainsif, Spain
•    Swesif, Sweden
•    UK Sustainable Investment and Finance Association (UKSIF), UK
•    Vereniging van Beleggers voor Duurzame Ontwikkeling (VBDO), the Netherlands

Eurosif Member Affiliates include a range of organisations covering the value chain of the sustainable investment industry, from institutional investors, asset managers to financial services providers, ESG analysis firms, academic institutes and NGOs, together representing assets totalling about € 1 trillion. Membership of Eurosif is open to organisations with a commitment to sustainable investing at a European level.

Eurosif speaks authoritatively and broadly on European SRI (sustainable and responsible investment) issues. The main activities of Eurosif are public policy, research and creating platforms for nurturing sustainable investing best practices. For more details, please see www.eurosif.org.
Contacts
Eurosif
Avenue Adolphe Lacomble 59,
(2nd Floor)
B-1030, Schaerbeek
Belgium
Tel: 00 32 (0)2 274 1435
General enquiries: Click here